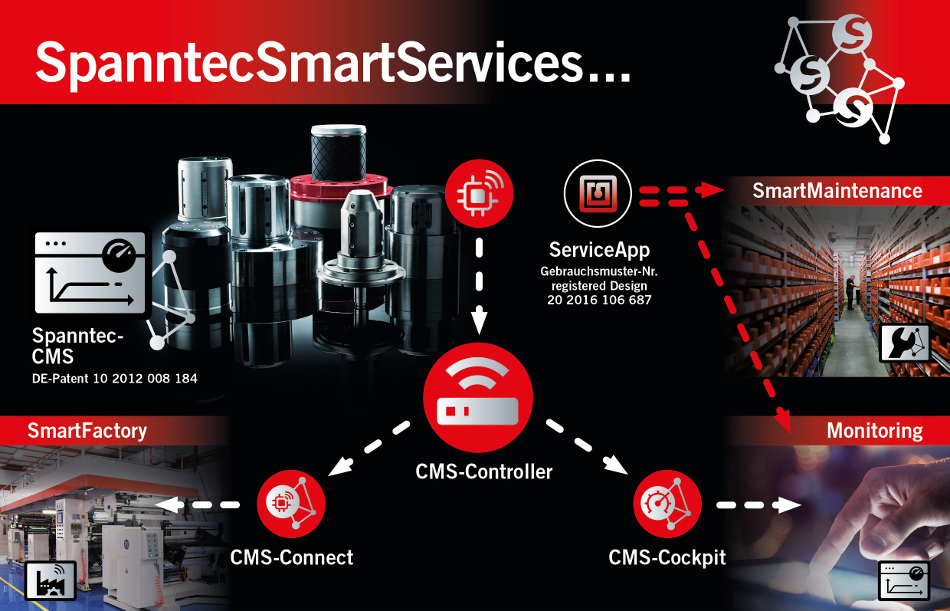 …we provide in any position the security you need!
Maximum Process Reliability thanks to the implementation of smart Reel Tightening Units
In the age of ever-advancing digitalization and the importance of Industry 4.0, creating a network between all individual components in a production control system is playing an increasingly important role.
Recording and storing all process data in the central control unit of cutting-edge production systems has long been
the golden standard in industry. In the past, a lack of technical options meant that operating data for independent
reel tightening units could not be taken into account, despite the importance of these elements in the winding process.
Thanks to our "Spanntec Smart Services" portfolio we are the first manufacturer, which now offers our line of business the possibility to record relevant status data from the current winding process and their incorporating into the complex systems of production processes.
Herewith the realisation of industry 4.0 has also come true in the world of Reel Tightening Units.
Why does it make economic sense to use Spanntec Smart Products in conjunction with the Condition Monitoring System (CMS)?
Typical problems that arise during the rewinding and unwinding of web-type materials during the production process will be avoided or even eliminated.
Enables operating staff to respond quickly to prevent the material roll from slipping. As a result, users can avoid resulting production errors or standstills, as well as damage to materials, potential loss of quality and delivery shortages.
Reports of entire running time and service intervals, as well as the time until the next planned maintenance appointment. Production systems can be shut down as planned for maintenance and repair work, expensive production disruptions
and standstills can be kept to a minimum, delivery reliability can be improved by optimized machine availability and process reliability, and overall operating and maintenance costs can be reduced.
Thanks to the protection provided to valuable production systems, winding goods and raw materials, the economic advantage and value for money of the Condition Monitoring System (CMS) is never called into doubt
Enquiry form SpanntecSmartServices
You are interested in our SmartServices? Then fill out the request form winding shafts from!