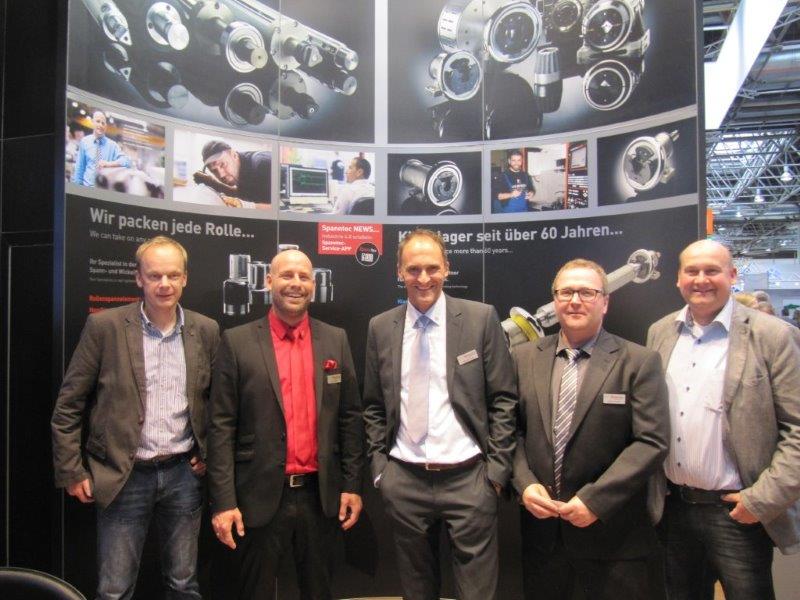 From left: Michael Feldhues, we-ma-co GmbH, Jan Liescher, Frank Brockmeyer and Carsten Rumpza, Spanntec Wickelsysteme GmbH, Frederik Sprenger, we-ma-co GmbH (photo: Spanntec)
The ConvertingCompetenceCenter of Spanntec Wickelsysteme GmbH (Bad Iburg, Germany) has been extended by a strong sales partner since the beginning of 2019: we-ma-co GmbH from Ahaus, Germany. we-ma-co is an experienced specialist in winding technology for web materials. For almost 10 years it has been supporting its customers with advice and system solutions in partnership cooperation.
Existing partnerships with Boschert GmbH (Lörrach, Germany) OWECON Group ApS (Kolding, Denmark) and Hildebrand Technology Gema (St. Gallen, Switzerland) cover the product range of web tension controls, brakes and folding bearings, web cleaning systems and antistatic solutions. The special focus on winding technology now makes the young company a real all-rounder thanks to the cooperation with Spanntec Wickelsysteme GmbH. This new cooperation provides joint customers with even more comprehensive advice and a range of complex package solutions.
www.spanntec.de                     ICE Europe, Stand A6/634
www.we-ma-co.de                    ICE Europe, Stand A6/592
Link to this article in C2 Coating & Converting